Robo Fed (tentatively named Executron) is a minifigure released in 2014 as part of the LEGO Movie theme.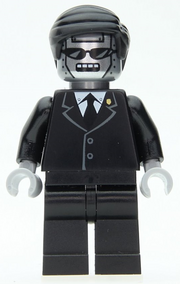 The Robo Feds are voiced by
David Burrows
alongside the other robots that work for Lord Business.
Background
Edit
In The LEGO Movie, a lot of Robo Feds are seen in the cubicles when Lord Business goes to meet Bad Cop/Good Cop. In MetalBeard's flashback, it is shown that The Flash and Ringmaster encountered a lot of Robo Fed's during MetalBeard's earlier raid on the Octan Tower.
Appearances
Edit
Set Appearances
Edit
Movie Appearances
Edit
Video Game Appearances
Edit
Gallery of Variants
Edit
Video Game
Edit